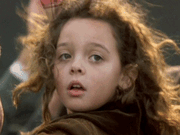 Cora Cartmell was a little girl who boarded the Titanic in 1912 with her father, Bert Cartmell and her unnamedmother. She was a third-class passenger. She was amazed by the incredible size of the Titanic. At Southampton, Cora corrects her father (who called Titanic a boat), saying it was a ship. Cora befriended Jack Dawson while on the ship and later danced with him at a party. When Jack told her he was going to dance with Rose, Cora looked disappointed, so Jack told her that she was "still his best girl."
In a deleted scene, Jack is seen with a picture he drew of Cora and her father. During this scene, Cora called Jack, "Uncle Jack", showing that they had formed somewhat of a close friendship during their time onboard together.
Cora and her parents drowned during the sinking of the ship after being trapped behind a third class gate (deleted scene). Her doll's head was found as part of the ship's wreckage by Brock Lovett.
She is last seen in the epilogue of the movie, in Titanic heaven, holding on to her dad's hand and smiling at Rose, while waving. She has her doll with her.
She was portrayed by Alexandrea Owens.
Last Name

Edit
It is debatable whether Cora's last name was "Cartmell" or "Cartwell." It was never stated. Some say her last name is "Cartwell", while others say it is "Cartmell", however, her last name is never stated in the film because she is a minor character.